Select platforms like Facebook and Instagram have built-in shopping tools designed for ecommerce companies. Your brand can tag shoppable products, and customers can tap to go to your website or check out right in the social media app.
How to manage social media like a pro: A comprehensive guide
As a person in charge of social media, you live a hectic life. Between building effective strategies and overseeing multiple social media accounts, you need to stay on top of finding new opportunities for marketing growth, and report on your performance – all under the pressure of time. And if this wasn't challenging enough, your social media teams are growing. This means you need solid management know-how to build efficient workflows and deliver results. We know things can get overwhelming. That's why we created this step-by-step guide explaining how to manage social media more efficiently – from persona analysis and content creation to listening.
Social media management is the process of analyzing social media audiences and developing a strategy that's tailored to them, creating and distributing content for social media profiles, monitoring online conversations, collaborating with influencers, providing community service, and monitoring, measuring, and reporting on social media performance and ROI.
Managing social media: where do I begin?
If you're not sure how to begin optimizing the way you manage social – don't worry. It's something many marketers are confused about. To be able to start off on the right foot, you need to do three important things:
Because completing them will provide you with fundamental information that will steer your social media marketing efforts in the right direction. As a result, you will be able to concentrate your resources on strategies that work and cut down on those that don't.
Conducting a social media audit
Step 2: Use social media analytics to review your key performance metrics, such as follower growth, engagement (including the average engagement rates for particular months), publishing frequency, most engaging content formats, top-performing posts, traffic sources, community sentiment, question response rate, average response time, audience interests, demographics, and behaviors.
Step 4: Analyze the data and identify areas that could use improvement. For example, if you see a dip in your engagement volume, it might be a result of low content quality, inaccurate targeting, or wrong publishing frequency.
That's exactly the type of information you need to single out shortcomings in your strategy. From there, you can take the first steps towards fixing them and making your social media management activities more efficient.
Decide on the right social media platforms
A lot also depends on where your audience is. If during your research, you find out your audience is mostly on Twitter, for example, but your presence on the platform is far from strong, then you should obviously seek to improve.
What are my business objectives (improving brand awareness, lead generation, website traffic, conversions, etc.)? Will I be able to meet my business objectives on the platform? How much will I have to spend to meet my goals?
Analyze your target audience
Analyzing your social media community is everything when it comes to managing social media efficiently. There are plenty of benefits to analyzing your followers – including building stronger customer relationships, creating more relevant content, and boosting social media conversions.
Or, if you want to make your life easier, you can let AI do the job for you. It's likely that your customer personas will be diverse. For example, you can have a group of teens interested in sports and a group of 30-year-olds following Digiday's Facebook page and interact with their content.
Having this information will allow you to make better use of your resources by concentrating on doing what works best with your community. Need help analyzing your target audience on social media? Check out this audience insights report from Socialbakers (now a part of Emplifi).
SocialBee
Seamless social media posting for all your profiles
Description: SocialBee is a social media management tool that promoses to bring you more leads with less effort. Its core functionalities allow its users to add, organize, and share content across several social channels from one place: Facebook (Pages, Profiles, Groups), Twitter (Profiles), LinkedIn (Profiles, Pages), Pinterest (Boards), Instagram (Profiles), and even on Google My Business. And it even integrates with Buffer.
Unique value: Oneof SocialBee's most-loved features is the possibility to recycle evergreen content while keeping it fresh by using post variations. You can use SocialBee to posts consistently, while having an overall balanced mix of content in each category. More than that, the quality of support and is another valued asset of SocialBee.
Social Media Reporting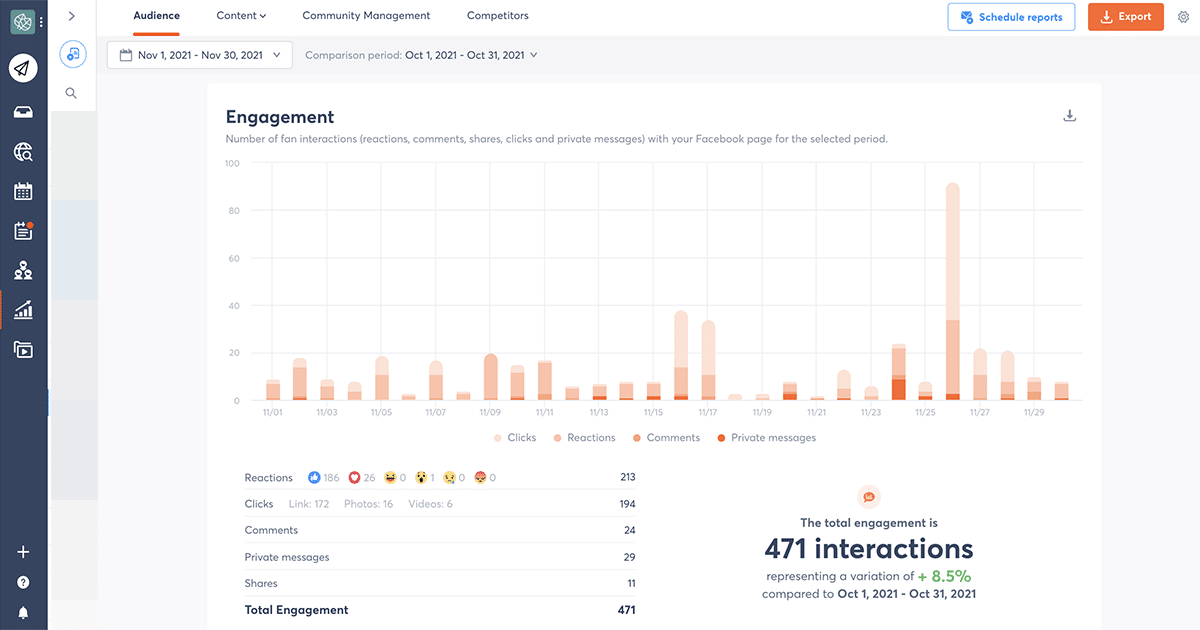 As you review your social media reports, make note of when the most significant upward and downward trends occurred. Review what happened on those days—such as the content you posted or the influencer partnerships you shared. Then use your insights to determine what works best for your audience and do more of it as possible.
In addition to standard reports, Agorapulse also offers custom options that can compile analytics for multiple profiles or for specific campaigns. To create one, click the Create a Report button in the upper left corner of the reporting tab.
Then choose the social profiles and data sections you want to add to the report. Before creating the report, you can opt to send it to yourself, your team members, or your clients every week or month. When saving time is critical, automated reports are key.
Social Media for Agencies
Maintain an asset library
With an asset library, you can keep content organized in separate client folders and subfolders for campaigns or social profiles. Agorapulse's asset library also lets you add titles, labels, and internal notes so you can quickly find any content you've uploaded.

If you want to create or add content to your asset library quickly, you can use Agorapulse's Canva integration. With one click, you can start designing a new post in Canva or shift an existing post from your Canva folders to your asset library.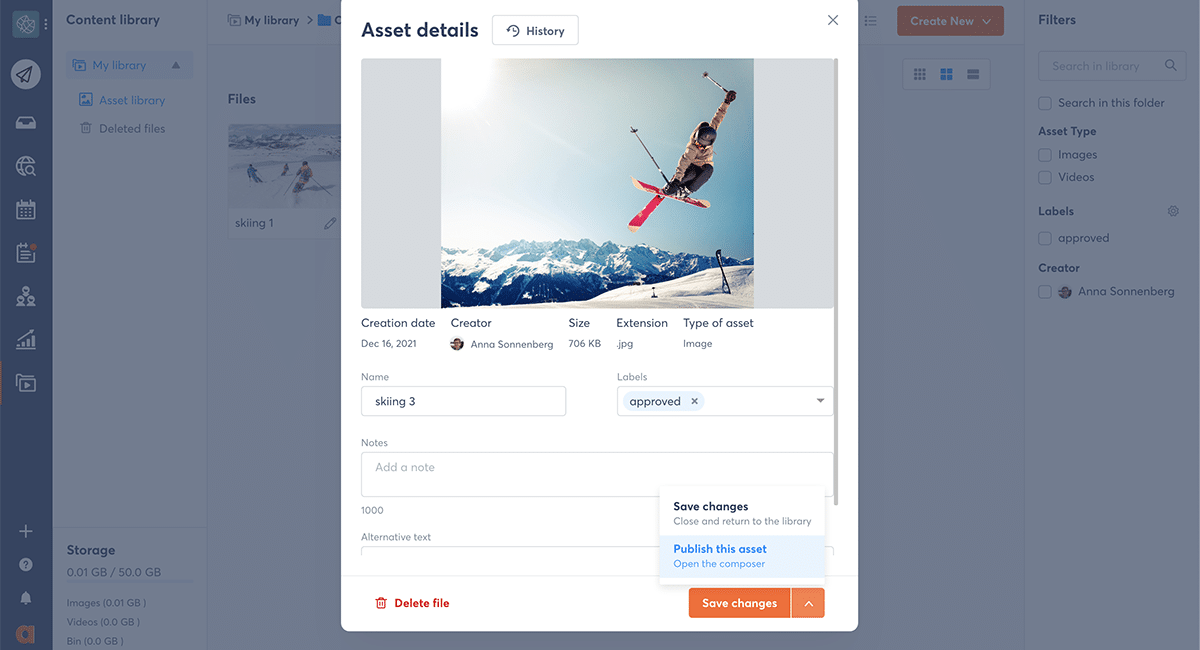 Master scheduling tools
Create an approval process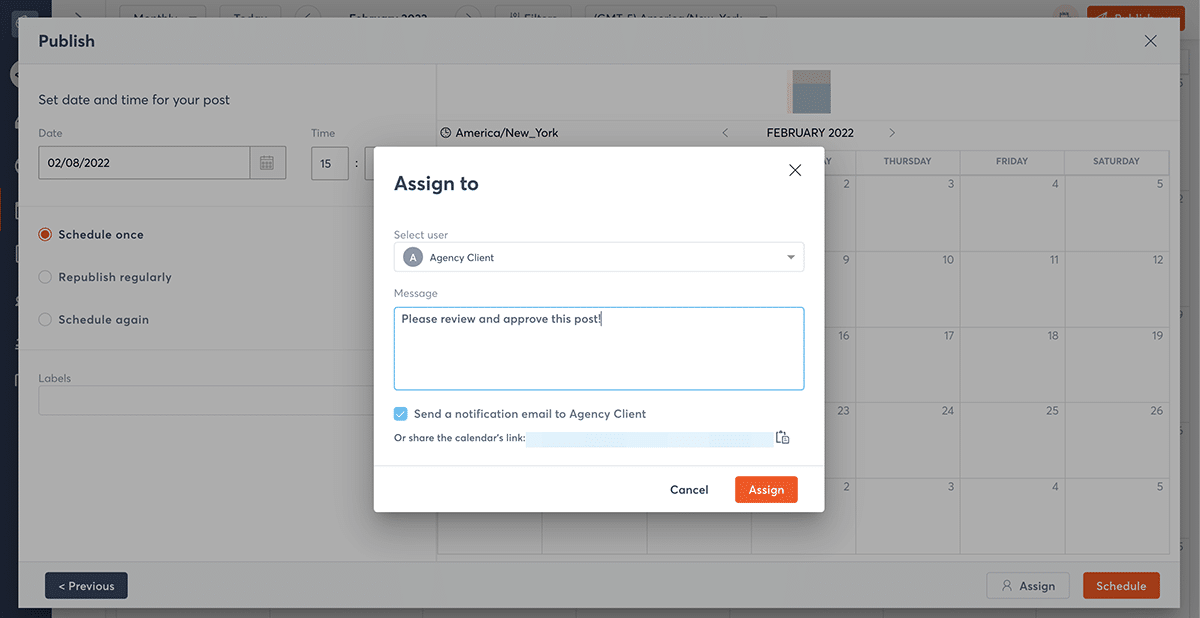 Rather than using email or chat apps to review social media posts one by one, incorporate the approval process into your social media scheduling tool. Just create a draft of the post, and then assign it to your client, chief marketing officer, or other stakeholders. Once the right person approves the post, the scheduling process automatically completes.
Also, consider using Agorapulse's shared calendar to make collaboration with your clients about social media content much easier, more visible, and less of a hassle. With shared calendars, you can share drafts with everyone on your clients' teams, even if they don't have a seat in your Agorapulse plan.
Just create a shared calendar with each client's social profiles, and add the people who need access. Once you invite them, they can view the calendar any time to see published, scheduled, and drafts social media posts.
Set a standard price structure
Do you ask yourself, "How much should I charge for social media management?" every time a new potential client contacts you? To save yourself time and hassle, set a standard pricing structure that makes sense for your agency.
In Conclusion
Now that you have the basics of social media management down, it's time to get to work. Hash out your social media goals, map out a content calendar, create branded content, and start building relationships with potential partners to grow your brand effectively.
Sources:
https://emplifi.io/resources/blog/social-media-management-guide
https://buffer.com/library/social-media-management-tools/
https://www.agorapulse.com/blog/social-media-management/
Social media management
If you're just dipping your toe in the social media marketing waters, do-it-yourself tools are a great way to get started. These platforms can help you manage your own campaigns with simple, comprehensive interfaces designed for the most novice of social media manager.
What Do Social Media Managers Do?
Social Media Managers create and maintain brand promotions, company information, and marketing campaigns for their company across several social media networks. Use a digital marketing campaign checklist to make sure your content is on track.
They also know the best social media metrics to focus on and use free or paid tools and respond to questions and comments according to the company's voice and guidelines. Social Media Managers work daily to produce new content, constantly innovating to push new ideas and formats and measuring how well those ideas perform.
Social Media Managers may report to a Social Media Director (in larger organizations) or the Head of Content or brand. They work with other creative groups such as marketing and public relations, as well as the sales department, to drive lead generation campaigns that the sales team can convert into revenue. A Social Media Manager is expected to keep up with new trends along with company and industry news.
An in-demand role, Social Media Manager positions typically require a bachelor's degree in marketing, public relations or similar. According to Glassdoor, Social Media Managers earn an average salary of over $46,000 in the U.S.
Create content for multiple platforms– What tips are used to expand your reach on Facebook, won't necessarily work on Instagram. Look at what content will work for each platform e.g video, gif, infographic, blog etc.
Monitor social analytics – You need to check what campaigns are working (or not working) across channels so your time and money is going in the right places to the right people.
Devise a social network strategy – You may need to create a campaign from scratch to promote a sale or new product.
Measure and prove ROI – Set measurable goals for a new campaign across relevant channels and create a report to track performance. Use a social media campaign calculator to meet your objectives at the right cost.
Schedule social posts – Each platform has an 'ideal' time to post content. Scheduling ahead of time helps reduce workloads and ensure content is posted when you're asleep, but your audience aren't!
Find relevant curated content – Some of your social posts should reflect world events or developments that matter to your audience. So, do some research and share third-party content that will resonate.
Engage with your audience – The point of your social media is to build engagement. So, respond to any comments and deal with customer queries.
Review and populate your content calendar – In such a fast-paced world, you need to plan your content. Populate your social media calendar for days or even weeks ahead to stay on top of things.
The best social media management tools
How we evaluate and test apps
All of our best apps roundups are written by humans who've spent much of their careers using, testing, and writing about software. We spend dozens of hours researching and testing apps, using each app as it's intended to be used and evaluating it against the criteria we set for the category. We're never paid for placement in our articles from any app or for links to any site—we value the trust readers put in us to offer authentic evaluations of the categories and apps we review. For more details on our process, read the full rundown of how we select apps to feature on the Zapier blog.
Social media management apps have one purpose: to make managing your business's social media presence easy and efficient. Most small businesses don't have the staff or the time to waste posting individual updates and checking in on each site a few times every day. With this in mind, we set out some pretty firm criteria on what we felt made a great social media management tool:
It's easy to waste time on social media—whether you're posting for yourself or your business. It shouldn't be a hands-on job that takes time every day. This meant we required apps to enable you to schedule future posts and updates so you could batch your social media work into a couple of blocks each week. Also, it was ideal if apps offered access to your social media inboxes away from the distraction of the feed, so you could reply to customers without getting sucked in.
Social media shouldn't be a crapshoot. Different audiences will engage differently with different kinds of content. To make it easier for you to identify what content works for your audience, the best social media management tools will offer detailed analytics on how your posts do. (Unfortunately for marketers, not all social networks allow the same kind of analytics, which means you won't necessarily get the same features for every social network you use.)
Finally, all the apps had to be cost-effective for small and medium businesses. There are plenty of enterprise- or influencer-focused apps out there that charge a serious premium for features you'll never use. Price wasn't as much the issue as value for money.
It's also worth noting that every app has a free trial or even a totally free plan. Don't decide on one based just on our observations; try the two or three that sound like they might suit you best, and go from there.
Best social media management tool for straightforward social media scheduling
Buffer is one of the longest-running social media tools aimed primarily at scheduling posts, although it's gone through multiple updates, shifts, and iterations. It supports Facebook, Twitter, LinkedIn, Instagram, and Pinterest. Free users can connect up to three social accounts, including Facebook Pages and groups.
When you first connect a social account, Buffer will create a schedule for you. By default, Buffer creates four slots per day: in the morning, around noon, late-afternoon, and later in the evening for the time zone you've selected. Head to Settings > Posting Schedule to tweak this at any time, delete or add time slots, or disable an entire day. The more slots you have, the more updates you'll need to schedule, but scheduling updates is easy with Buffer's intuitive dashboard, mobile apps, and browser extensions.
For scheduling content from the web, Buffer offers browser extensions for Chrome, Firefox, Opera, and Safari. Click the Buffer icon in your toolbar (or use a keyboard shortcut), compose your update, and click Add to Queue to schedule. There are also mobile apps available for both iOS and Android, so you can schedule on the go.
While Buffer's free plan is good enough to get started, if you want a more complete social media management solution or to control more than three social media accounts at once, you'll need to pay $6/month per social channel for the Essentials plan. This gives you access to detailed analytics and engagement features, which let you interact with your audience directly from Buffer. (Also, if you want to bring team members on board, Buffer goes up to $12/month per social channel.)
Buffer new items in an RSS feed
Buffer your WordPress posts
Buffer Price: Free plan includes one user, three accounts, and 10 queued posts per profile; from $6/month per social channel for the Essentials plan that offers unlimited queued posts per profile; from $12/month per social channel for the Team plan that offers unlimited users.
How Much Does Social Media Management Cost?
Social media management tools and services vary in costs, which is why it's so important to get a tailored quote before you make a decision. Above all, you'll want an accurate estimate of how much social media management tools and services will cost for the particular scale and needs of your business.
Cost of Social Media Management Tools
The cost of social media management tools can vary, but you should expect to pay somewhere between $10 and $600 per month. Yes, that range is large, but a lot of factors need to be considered before narrowing it down for your particular business.
Accounts
The beauty of social media management tools is your ability to schedule posts for Facebook, Instagram, Twitter, and even LinkedIn from a single platform. However, depending on how many accounts you're looking to manage, the price could go up.
Whether you're popular on a wide range of platforms, or just have six different Twitter accounts that you want to manage, make sure you know exactly how much it costs to add extra accounts to your service, as it could cost you a pretty penny.
Posts
The primary purpose of social media management tools is to schedule posts in advance so you don't need to perfectly time out your day to hit those peak hours. However, if you're trying to take the "quantity over quality" approach, you might need to pay a little extra.
Even if you only have one account, some social media management tools will put a limit on the number of posts you can schedule in advance. The more posts you want to schedule, the higher the price, so make sure you take that into account when picking your tool.
Users
Are you planning on tackling your social media strategy all by yourself, or were you hoping it would be more of a team effort? This is an important question to ask when it comes to which social media management tool and plan you end up with.
Most social media management plans are priced on a "per user per month" basis, so each additional user will cost you. Additionally, some plans specifically cap your users at a certain number, and you'll to upgrade to add more, so be sure you consider how many users before making your decision.
Features
Social media management comes in many forms. From scheduling posts to analyzing trends, you can do a lot with the right platform. As you can imagine, providers offer a wide range of different features, and that can seriously effect how much you end up paying.
In most cases, the average plan will offer scheduling capabilities, along with some posting help. However, if you're looking for marketing, monitoring, listening, engagement, and analytical features, you're typically going to have to shell out a few extra bucks a month.
Platforms
Almost every social media management tool offers functionality with Facebook, Twitter, Instagram, and LinkedIn. However, if you're looking to branch out with your social media strategy, you might want to investigate which providers offer additional platforms and, more importantly, how much they cost.
TikTok, Snapchat, Reddit, and Tumblr, among others, are far from standard in the average social media tool, but you can absolutely find them. Loomly, for one, is a great option, although it could cost you a bit extra to get all the coverage you're looking for.
Cost of Social Media Management Services
Unlike social media management tools, these services offer everything from marketing strategy to paid advertising to improve your overall strategy on social media. Because of this, social media management services vary greatly in cost depending on a wide range of factors, including:
When it comes to social media management services, the varying costs make it imperative to get a customized quote before you make a decision. To get a good idea of what's out there, take a look at a few tools and services we have reviewed below.
Social Media Management Stats
Unlike other aspects of your business, measuring how important social media is to building a growing company is pretty difficult. With abstract metrics and unique approaches to success, having a few statistics to drive the message home certain never hurts.
Now you know what social media management involves, its benefits, and the cost factors that will determine what sort of price quote you can expect, here are some examples of the companies that can help you. We've put together a selection of the top social media management tools and services available in 2021.
Do It Yourself: Social Media Management Tools
If you'd prefer to be hands-on with your brand's social media, then there are some brilliant tools you can choose, to manage how you go about this. Social media for business shouldn't involve logging into a standard Facebook or Twitter account, just like you would with a personal page. Businesses need to be smarter.
Sources:
https://digitalmarketinginstitute.com/blog/what-skills-do-i-need-to-be-a-social-media-manager
https://zapier.com/blog/best-social-media-management-tools/
https://tech.co/digital-marketing/social-media-management-guide
Social media management
The challenge for SMBs and enterprise organizations is finding the right solution for their present needs while paying attention to their possible future needs. Smaller brands and startups have the benefit of being able to focus on tools that will help their growth and build their name. Established brands are focused on their reputation as well as tracking competitors in a market where every hashtag, mention, or "like" can quickly go viral, impact a brand's reputation, and even affect their bottom line.
What Is Social Media Management?
The social media landscape continues to evolve and mature. While there hasn't been a considerable increase in the number of social media platforms, we are seeing the consolidation of popular services under Facebook's control. Social media platforms are pivoting to better serve as captive advertising and sales channels.
For example, Instagram, which was focused on photo and video sharing, has grown into a serious marketplace because photos of products and services fit easily within users' news feeds, putting possible purchase decisions just a few clicks away in the seemingly endless scroll that can be social media surfing. The addition of Instagram for Business (Opens in a new window) and Instagram TV (Opens in a new window) (IGTV), which enables creators and brands to create video channels within the application, has also added more avenues for interaction and engagement. Social media management tools are similarly adjusting to being able to publish posts and measure data from these new offshoot features.
Social media use continues to grow globally, which means that businesses and companies now have global reach for their brands and products. Any sudden global expansion brings unlimited potential while also posing some considerable challenges. These include being able to handle foreign languages and understanding localized social media trends. Social media has also transcended beyond publishing content and interacting with customers; it is a valuable source of real-time information and analytics. Some social media listening tools can quickly break down this information into quantifiable and actionable data points. Social media management tools can take analytics and funnel it into customer relationship management (CRM) tools to give you more informed and nuanced customer interactions.
There are a wide range of social media management and analytics tools in the market today. They run the gamut from creative publishing and scheduling tools (such as Loomly, Planable, and Sendible) that aim to keep social media managers on top of posts to powerful analytics tools (such as Buffer Publish and our Editors' Choice pick Talkwalker) that can present real-time performance and competitive information in a number of ways. Integrated solutions, such as Editors' Choice Sprout Social and pioneering social media app Hootsuite, continue to be popular for small to midsize businesses (SMBs) because of their versatility and convenience.
SEMrush
Reasons to buy
Reasons to avoid
SEMrush is best known for being an inclusive SEO software platform, but it also incorporates a couple of useful tools for social media management across Facebook, Twitter, Instagram, Pinterest, LinkedIn and Google My Business.
The social media poster allows you to schedule and posts to these different social media platforms. It includes an image editor, UTM-builder and link shortener, for customizing your posts, which you can then publish immediately or according to an automated schedule. There's also the ability to manage ads specifically across Facebook, Instagram, Facebook Messenger, and the Audience Network.
The social media tracker then allows you to track cross-platform engagement with users, allowing you to collect analytics for reports in a single dashboard. This includes both reactions to posts as well as mentions elsewhere. You can also monitor competitors to determine how often they are posting.
The biggest strength, however, is the fact that SEMrush allows you to integrate your social media management with your overall SEO and marketing strategy, and provides a useful platform that brings everything together in one place.
Social media design tools
A brand's social media presence should look visually cohesive — but how do you achieve that and keep posts timely? With design tools like these, that make it easy for social media managers to access on-brand templates, fonts and stickers in a flash.
1. Canva.
"It's got prebuilt templates for all industries that can be easily manipulated with your brand colors and fonts and quickly resized for different platforms," she explained. "It's the best tool I've found for creating branded social content… Everybody in social media needs Canva."
2. Mojo.
Designed for creating Instagram reels and stories, Mojo's mobile app offers hundreds of social templates to ensure clean, consistent layouts on branded posts — and it lets social media managers edit, animate and add stickers to photos and videos.
Sources:
https://www.pcmag.com/picks/the-best-social-media-management-analytics-tools
https://www.techradar.com/best/best-social-media-management-tools
https://marketerhire.com/blog/social-media-management-tools